Reading books by Black authors one page at a time
The Black Author Series Virtual Book Club at MiraCosta College gives students, faculty, administrators and staff an opportunity to read books by underrepresented Black and African American authors. The BAS Virtual Book Club lives asynchronously on Canvas and members who participate in it online are able to earn service-learning or professional development hours.
The books being read during the 2022 spring semester include James Baldwin's "Go Tell It On The Mountain," Natalie Baszile's "Queen Sugar" and Octavia E. Butler's "Kindred." Debby Adler, an administrative assistant at MCC, has been a member of the BAS Virtual Book Club since the 2021 fall semester. One of her more memorable experiences participating in the book club are the monthly discussion boards that take place.
"I truly loved the interaction on the discussion boards in Canvas. It was fascinating to me to see how others in the group would reply to the prompt," Adler said. "Everyone had a different perspective, perception or viewpoint and it opened my eyes as to how one question could garner so many different thoughts, ideas and concepts about the books we read."
Adler has additionally found the book club to be an outlet for her passion for reading and an introduction to Black authored books.
"It dawned on me that among all the books on my bookshelves, I owned only two or three books written by Black authors. I was intrigued and interested about other authors and since this book club was specifically going to introduce us to authors of color, it immediately piqued my interest," Adler said. "I wanted to learn about Black culture, their history and read their stories. This seemed like a perfect way to get started."
First-generation graduate of MCC and the only Kashmiri student at the college, Jade Maceoghain has been a consultant at MCC's Writing Center for almost four years. She is currently a member of the BAS Virtual Book Club, but for her, reading books written by a wide selection of authors is not unfamiliar.
"Especially in light of many years of oppressions on the Black community, and the BLM movement growing again in 2020, I wanted to take an opportunity to be part of a focused community of peers where we could all learn and read together," Maceoghain said.
Maceoghain is eager to share part of her cultural identity with the MCC community. She has expressed interest in the college's ability to offer more book clubs focused on other cultural communities.
"Personally, I would like to see a book club focused on South Asian writers–there is so much diverse literature spanning centuries of South Asia," Maceoghain said. "There is also a lot of underrepresented literature of places facing occupation, like Kashmir, so you can also find every genre and gender of writer within the subcontinent. We have fantastic resistance literature, and the poetry is sublime."
Adler also expressed interest in learning about other communities through book clubs at MCC to help navigate discovering a variety of cultures.
"I would be interested in any community represented through a book club. The world is so vast and different and through books you can begin to understand other cultures, religions, ethnicities, societies, customs, traditions and more," Adler said. "Authors who are represented within those communities are the best communicators to help one learn about their history."
The BAS Virtual Book Club focuses on a diverse community of authors, and as a result there are many genres represented in the books being read each semester.
"I love the variety of literature and genre[s] that we get to read," Maceoghain said. "So far some of what we've read has been historical fiction, romance and this semester we also have science fiction. I've found some new favorite authors through this club!"
Adler finds the BAS Virtual Book Club to be a unifying space and an easy way for students to be involved in representing the Black community.
Diversity, equity and inclusion is a big part of the culture at MiraCosta College and this [book club] was a wonderful way to start to be part of the journey to understand what others go through in their lives; by reading their stories and understanding that we are all in this together," Adler said.
Maceoghain echoes Adler's statement and is confident the BAS Virtual Book Club is positively impacting the MCC community. She says it is sparking discussions about becoming more mindful and compassionate.
"While I've been here, there have been so many student-led changes and activist conversations happening, and so having a book club where we can come together and have discussions about the past and the present– and the future –through literature is one way we can continue to move forward and make our community more connected and aware," Maceoghain said. "I think that reading, literacy and community, all together are critical exercises in empathy and compassion building as well as ways for others to understand the experiences of individuals and whole communities."
About the Contributors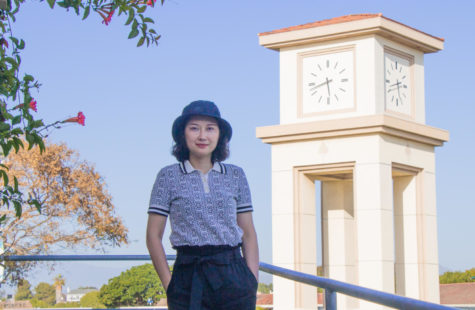 Linglin Tu, Graphic Designer
Linglin Tu is a student at MiraCosta College. She studied and worked at universities in China for more than 20 years and moved to San Diego in 2019. Linglin...