Article was updated on Nov. 18, 3:05 p.m. to clarify that Measure MM is a bond not a government grant.
In the summer of 2021, MiraCosta College revealed the first athletic investments supported by Measure MM, a 2016 bond measure that gave the school $455 million to modernize aging facilities and upgrade instructional technology. The measure has been used for many projects alongside a new gym and Spartan field for the Oceanside campus. The new field will support intercollegiate sports like men's and women's soccer, as well as club sports like men's and women's rugby.
Graduating from an older damaged field, MCC has created a facility that will benefit current and future sports programs.
"The field was made larger. We also added a great support building that has restrooms, storage areas and an office," Athletic Director Patrick Conahan said.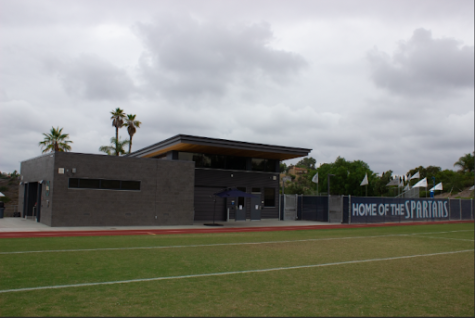 Former MCC student and current CSU Monterey Bay player Ryan Anderson wasn't a fan of the old field.
"I used to play on the old field a lot with my friends and I can say that it was not up to par. We were rolling our ankles and getting all bruised up from the hard, patchy grass. I'm happy to hear that some of the younger boys I played with get to train and play on a field that won't get them injured," Anderson said.
With maintained grass, athletes can better focus on the sport they're playing as opposed to trying to avoid injuries. Former La Costa Canyon High School goalkeeper and current MCC student Benjamin Delgado says that this is especially true for goalies.
"Because you're jumping and sliding around a lot without having much time to brace your fall, playing keeper can get pretty brutal on your body. Having good grass is really important for [goalies]. Falling on lumps and dry patches of just dirt is not fun at all," Delgado said.
Long and poorly maintained grass can have a large effect on the pace of the game, per Ben Seleznow of Keystone Sports.
The longer the grass, the slower the ball moves, which causes players to have to adapt to the uneven terrain they are playing on, increasing the likelihood of a game-changing error. Not unlike the new gymnasium, the Spartan field is also beneficial for MiraCosta students who aren't affiliated with any sports programs.
"When we resume the intramural sports program we will offer soccer and flag football events for any and all MCC students to participate in," Conahan said.
With both the new gymnasium and the new field being used for intramural sports activities in the near future, MCC can expect a new influx of on-campus activity. For now, the field has been used by men's and women's soccer, who recently completed their respective conference league seasons.
As of 3/14/22: 28 Views, 0 Comments, 5 Likes