Emanuel Prince: First DEI vice president
Emanuel Prince became the first-ever Diversity, Equity and Inclusion vice president and has already made two scholarships for underrepresented students.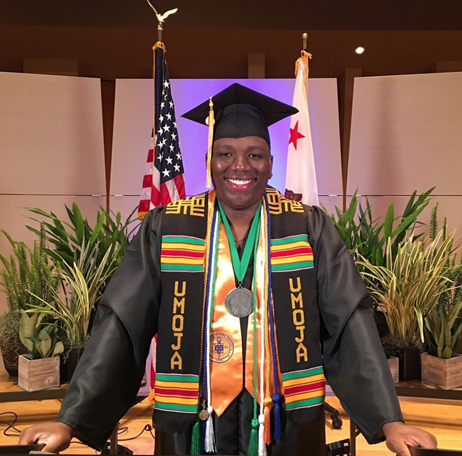 Emanuel Prince currently holds the MiraCosta College Associated Student Government position as the vice president of the Diversity, Equity and Inclusion committee.
It is important to note that Prince will be transferring next fall to Cal State University Dominguez-Hills with an associate's degree in administration of justice and will pursue a bachelor's degree in sociology with an emphasis in criminology and justice studies. He plans to attend a law school and pursue a career as a prosecutor.
As a young child, Prince never saw himself in a leadership position but was inquisitive. In his junior year of high school, he realized that he could challenge authority by having a role of authority.
He wanted a position as a senator because it meant having a voice and a vote in the ASG but would not be seen as an authoritative figure with which he was comfortable. He applied in the spring of 2020 and received a message from two faculty members encouraging him to apply for his current position.
Although he was not sure he would get the position, he was greatly supported by everyone, and sure enough, he was elected for the position.
The DEI committee's goal this year was to create a scholarship to help underrepresented students with financial aid. This goal surged because students needed more help because of the COVID-19 pandemic.
Prince also noticed a gap that needed to be filled after the MCC 2020 Student Equity Plan presentation by Kristina Londy, program manager for student success and equity and Dr. Wendy Stewart, dean of counseling and student development.
"The most significant equity gap was amongst Black students, particularly Black male students, who had lower rates of graduation," Prince said.
The first scholarship, the ASG-Inter Club Council DEI scholarship, will be open to all students regardless of status or ethnicity, as will the Black/African American Student Equity Scholarship. These scholarships were made with the intent to close the equity gap and ensure that students can graduate.
"[These are] new scholarships that have never been created before in ASG history. [We wanted to] make sure that we were thorough in its intentions and in the language that we used," Prince said. "They were open to all students, regardless of where they come from or who they are."
The process to complete both scholarships took nearly three and a half months. It started with multiple DEI meetings and reviewing the scholarships to end up with a tangible reward.
"They have been such a huge help in creating what DEI is at this moment and what DEI will become," Prince said, referring to his ASG team members, Amy Eager, ASG senator of the MCC Community Learning Center, and Ian Clark, ASG vice president of the MCC San Elijo campus.
Prince also thanks the ASG and ICC for helping him create the two scholarships, which will leave a long-lasting legacy of what the DEI committee can achieve and serves as the commitment, dedication and passion of the ASG as a whole.
During the last revision of the scholarships, Dr. Nick Mortaloni, MCC dean of student affairs, offered constructive comments and suggestions.
"The ASG DEI Committee did a phenomenal job on the scholarship guidelines! I especially appreciate that the ASG focused their efforts on supporting our disproportionately impacted and minoritized student groups," Mortaloni said. "I am incredibly proud of the legacy that Emanuel Prince and the entire ASG DEI Committee created this year."
3/5/2022 – 89 Views – 8 Likes – 0 Comments