Community colleges' jazz music programs impress as vessels for growth and performance
Facing the challenges of pandemic head-on, the San Diego Mesa College and MiraCosta College music departments and their faculty are providing students with diverse and dynamic musical experiences. This semester, the community colleges are offering both virtual, as well as in-person, classes and events, such as jazz concerts and weekly recital hours.
The MCC Frequency Vocal Jazz program, referred to as Frequency, performed on-campus, for the first time this semester. The concert took place at the Oceanside campus concert hall and included performances from the vocal jazz ensemble and selected soloists.
Maggie Robertson is a music major at MCC and is also in the Frequency program. The time Robertson spends for her major goes beyond just her courses, including lessons with an MCC instructor and her time at Frequency.
"In my lessons, we don't just get to an acceptable point, you are working to go above and beyond. You don't just sing, you do piano as well," Robertson said. "It is well-tailored to me and it's about the student, rather than just filling the expectation of a grade. I just love it."
Robertson reflects on her participation in the music program and her recent performance with Frequency on Oct. 22.
"The performance went amazing. Everyone worked so hard, and we've really made a lot of progress as a group," Robertson said.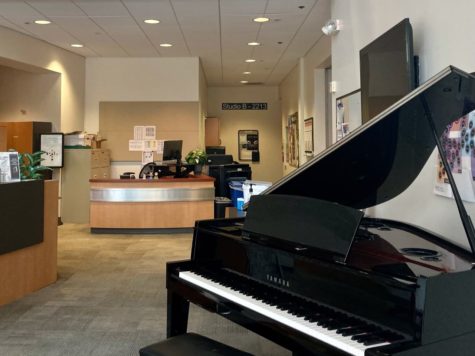 Matt Falker, previously a faculty member for the music department at the University of Southern California, currently teaches theory and piano classes at MCC while serving as the director of the Frequency Vocal Jazz program. He has also started the annual Oceanside Jazz Festival at MCC, which will resume on-campus in the spring, after a two-year hiatus.
"There are musicians and over 25 different choirs that come to perform at the festival. We usually have people from California State University Long Beach, USC, and California State University Fullerton, but we've also had musicians from as far as Australia and England," Falker said.
N. Scott Robinson is the chair and an associate professor for the music program at San Diego Mesa College. He attended the Berklee College of Music and attained a doctoral degree in Musicology-Ethnomusicology from Kent State University. Robinson's teaching style in the music program at Mesa College reflects his own experiences as a student.
"Oftentimes students don't come in having the skills to be a successful music major, and that was me, I was deficient," Robinson said. "But, I had a desire to learn and that is where mentoring comes in, extending an opportunity. You invest in them and inspire them."
The faculty for these community college music programs aim to invest in aspiring musicians. Whether propelling them to successfully transfer to a university or get a job in the music industry, students are able to build their passion for the art form.
Students are also able to build connections, take advantage of performance opportunities and form a community with others. Mesa College offers weekly virtual events to celebrate diversity in music. The event features anything from African and Asian-American music to Latin, jazz and classical.
"It is a recital hour, supporting diversity in all its forms," Robinson said. "There is a classical percussionist from Indonesia who will be performing, a hip-hop and jazz flute duo and a traditional Irish folk artist."
The MCC and Mesa College music programs intend to be a source of inspiration and self-reflection for students and faculty alike.
"It is my identity. This work has meaning in defining who I am," Robinson said. "Music has been a great form of community. It is the very fabric of who I am as a human being. It has been a blessing."
63 views, 0 comments, 12 Likes