Tidepools, MiraCosta's journal of ideas
The MiraCosta College community celebrates written and visual storytelling in its journal, Tidepools, which publishes original art, poetry, fiction, essays and comics from students, staff and faculty.
Created several decades ago by Rob Archer, a MCC professor who had a passion for literature, Tidepools offers the MCC community the chance to be published in a literary journal.
The University of Chicago calls collaborative art a transformational force that strengthens community and enhances well-being. Though the opportunity to get published and the possibility of cash prizes are clear benefits of entering a submission for consideration, Tidepools offers the chosen entrants those collaboration benefits as well.
The objective of Tidepools is to give MiraCostans the opportunity to share skills in creative endeavors and to engage in the healing power of expression.
The current editor-in-chief is Jade Hidle, a MCC professor who teaches composition, literature and creative writing. She pushes her students to submit to Tidepools.
"They have these talents and artistry that can really be put on display," Hidle said. "It's an interdisciplinary collaboration."
The book is designed by a class of media arts and technology students, MAT 230, and is part of the MCC literary and art culture.
Hidle, who has a history in publishing and a Master of Fine Arts in creative writing, has a goal of increasing the Tidepools' submission call to diverse students. "That way we're really hearing all the voices," she said.
Entries are selected for publication by an editorial staff which is made up of faculty, staff and students which changes each year to keep a variety of perspectives on the staff. The editors' aim is to publish the stories that represent MCC at large.
Maria Huerta, the administrative assistant to the dean in the office of student affairs was encouraged by a friend to submit an entry. "The Tidepool process was fun because I have never submitted an entry before," Huerta said. Her photograph, "Tulip Fields", was selected and published in the 2020 publication.
"My dream is to travel the world. Whenever I visit new places, I always like to take pictures of the scenery. That time, I was visiting Washington [State] during their annual tulip festival. It was the first time that I have ever seen so many tulips and I didn't realize they were so beautiful and colorful," Huerta said.
Syndee Wood, a MCC English professor, looks forward to sharing information about Tidepools with her students. "Even students who think they hate poetry, and who have previously resisted writing in creative ways, come to realize that poetry invites us to tell a story," Wood said. "The power of language gives us a place to understand ourselves."
The deadline for entry in the 2022 issue of Tidepools is Friday, Dec. 10, 2021. The entry rules and submission site are on the Tidepools flyer.
This year the publication will not have a theme.
"The editors don't want submitters to feel constrained by a particular theme," Hidle said. "We want them to feel free and open to share what's important to them. Art, whether it's written or visual, is a way to empower."
Another goal of the editorial staff, and hopefully a result for participants, is the reward of sharing the Tidepools experience as part of community building.
"This publication is an opportunity for our community to feel a bit less alone," Hidle said. "We can feel proud of what MiraCosta is and what MiraCosta represents."
As of 3/14/22: 54 Views, 0 Comments, 15 Likes
About the Writer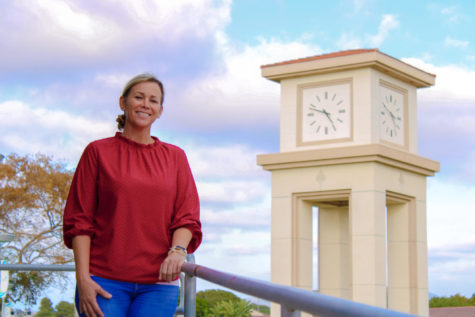 Patricia Rand, Managing & Copy Editor
Patricia Rand is a second-year student at MiraCosta and a peer educator majoring in social work and human services. A non-traditional student who recently...